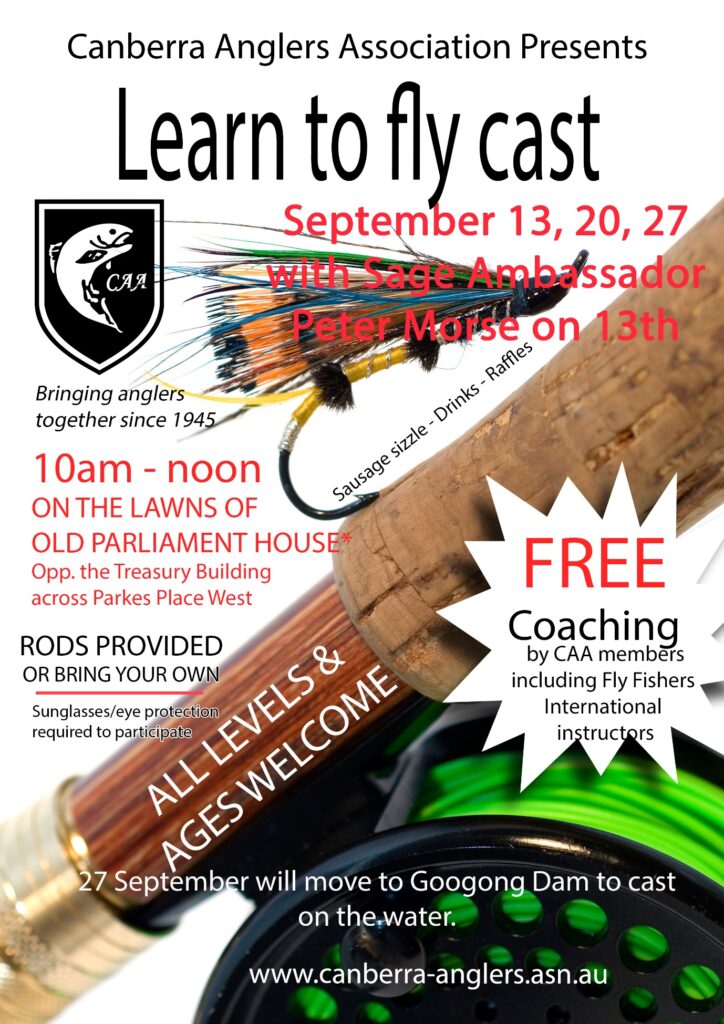 Yes, it is that time of year again. We are organising COVID-careful fly casting tuition for the public on the lawn at Old Parliament House on (13 and) 20 September then moving to Googong Dam on 27 September to cast on the water and maybe catch a fish. For Googong, go right to the end of the road to carpark/BBQ area near boat ramp
It is an excellent opportunity for outreach by Canberra Anglers' Association and we have had scores of people tell us that their first exposure to fly fishing was at Old Parliament House. Not to mention the opportunity to sell the best sausage sandwiches in the southern hemisphere … no, the best on the planet.
We anticipate having our usual fantastic CAA casting instructors and members to circulate amongst members of the public to fine tune their casting. And, as usual, we will have raffles for all kinds of angling gear and hopefully a major raffle prize of a fly rod from a generous benefactor.
The best news is that we will have Master Casting Instructor, author and photographer Peter Morse joining us on 13 September to showcase the latest in Sage fly rods and Rio lines so we expect a big turnout by the public to meet him. Peter was the host of the long-running SBS fly fishing TV series Wildfish and our own Secretary as been asked more than a few times when they were travelling together "Is that the famous Peter Morse?" "Naaah, this bloke just looks like him."
Please block off 13, 20 and 27 September in your diaries and come to the premier fly casting event of the year in Canberra.
A copy of the flyer is downloadable from the link below in case you want to print it off – pop it up on a notice board at work!