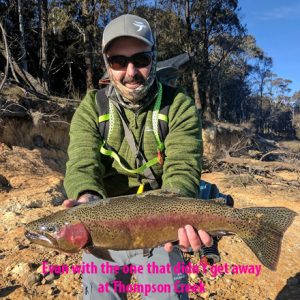 Thanks go to Jason Q for filling in for me last month.  Much appreciate his help here, especially given he's now a very busy father.  I'll be taking another sabbatical later this year and am looking for a volunteer to try their hand for one edition.  It is a lot of fun (especially with generous members providing material) so jump in.
A huge issue this month, especially thanks to the efforts of our members.  Take a bow folks.  Great to see that, even with the closure of stream fishing for trout, CAA can find excuses to get out and about:
JM provides us with extensive notes on our annual event down the coast – recall that this the event that determined the Saltwater Trophy for 2017/18.
Luke C and Evan tried a trout site outside our normal range.
'International traveller extraordinaire' Lyall introduces us to the Pacific NorthWest – and aren't we all envious!
Claude has extracted from some carefully selected advisors comprehensive advice on the 'go to' flies for this region and has kindly shared the results with us all.
Our local man representing our fishing concerns in so many forums, Steve Samuels, has made a number of important announcements to 'his list' and I've repeated them here for those not on it. There are some significant items of news impacting on the local fishery.
This issue will be a hard act to follow.