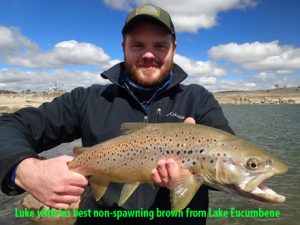 A big issue this month – many thanks to those who have contributed words and photos. Reports include the casting weekends, including our time on water, Lake Eucumbene continues to produce good fish, Thompsons Creek Dam continues to prove hard to crack. CAA activities in Switzerland and Malaysia grace our pages this month. Gaden Hatchery reports a very successful spawning run. Finally, the RecFish NSW newsletter has brought to our attention a very useful information source on stocking sites.
Hope you enjoy it and again many thanks to contributors.
Apologies, the 'Coming Events' in this issue has the incorrect date for the Lyle Knowles. A decision was taken after the membership card was printed to shift from the one day event on Saturday and instead the event was held Sun 22 Oct.