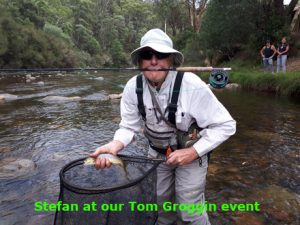 Oops … it was pointed out that there was a typo attributing a 31cm Brown to Mark S. Mark doesn't catch 31cm fish 😀. It should have read "3 fish to 51cm". Now fixed. Apologies Mark.
Another month where I had feared there would be limited material, but then it arrives. I particularly appreciate the support of Leon who is a regular contributor and this time shares some of his knowledge on innovative ways to use fly tackle. There has been a number of angling related 'political' meetings including Snowy Hydro 2.0 and the Koi Herpes virus initiative. Canberra Anglers Association has been engaged and representing the views of our membership.
Our co-editor Luke is off jetsetting at the moment so you'll have to settle for the old format. Hopefully the next issue will be back to Luke's best.