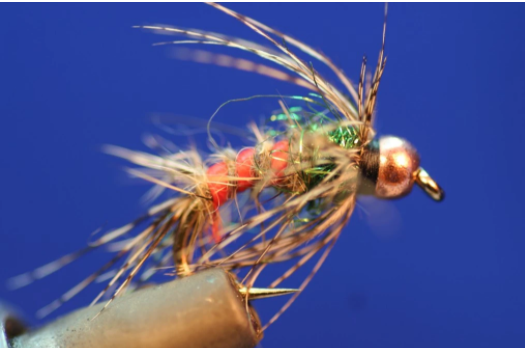 (Photo is a close, not exact representation – thinner ribbing)
Materials:
· Hook: Jig, #14
· Bead: Black, Copper, ~2.5-3 mm*
· Body: Squirrel fur – grey/natural (alternate: Hares Ear..but spikey)
· Tail: Partridge*
· Ribbing: Glo-Brite #1 (pink) thread (alternate: other flouro thread)
· Thorax: #46 or #45 Hends spectra peacock dubbing (alternate: peacock herl)
· Collar: Partridge and CDC (alternate: one of them)
* Alternate: anything you have
You Tube Reference: Martin Droz binder nymfe hos Drammens Sportsfiskere
Nathan Walker gave a great talk at our last meeting about fishing the Eucumbene River. His tactics and recommended flies can be used anywhere in our region.
We will be tying one of Nathan's favourite flies -> the 'Droz nymph'. Claude will be running the tying session. Please join us for the tie, even if you don't have all the exact materials.
Drop in to see Nathan or Nick at the Compleat Angler for materials or any of your other fishing needs.