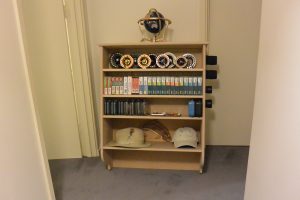 the fishing tackle shelf being offered up for the silent auction (email bids to Editor Burley Lines or come to the AGM
Sun 22nd Jul – Nathan is taking us to Uriarra Crossing to impart some of his knowledge on "presentation casting" – all those sneaky ways to get your fly in the right place in the right manner under challenging situations. Time is 1000, more details via email. Note change of date.
Wed 25th Jul – Fly tying at usual time of 7:30PM at Raiders Weston. Tie and instructor was to be Jason M but he is no longer available. Replacement to be advised.
Wed 8th Aug – AGM starting at the earlier time of 7:00PM at Raiders Weston. Raffles, door prizes, nibbles and finalisation of the silent auction of the fishing kit shelf.
Wed 22nd Aug – flytying will be run by Shaun with his Crustacean Bugger. Normal time of 7:30PM at Raiders Weston Club. More details by email in due course.
Fri-Sun 24-26th Aug – the annual Committee Strategic Planning meeting at Bondi Forest Lodge. All members are invited to come along to the weekend to compete in the third 120 Minute fly tying/fishing competition.
For future reference: 9, 16 and 23 Sep are our fly casting instruction days on the lawns of Old Parliament House. More information closer to the date