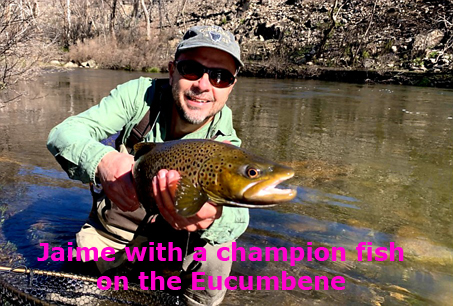 Many thanks to Rod for his notes. I'm conscious that some people actually work for a living and I appreciate folks such as him spending the time to contribute to Burley Line.
End of season for trout stream fishing and some members report here on their experiences – some interesting reading from Evan, Claude&BJ and Peter. What a beauty from Jaime – and then he backed up with a good string of Cod (the man is a veritable angling machine). Things are relaxing a bit with initial recommencement of CAA angling events with the June Chill at Black Mountain Peninsula – as you'll see, the President led from the front – but unfortunately our Saltwater event has had to be cancelled, and our meetings will continue to be virtual for the time being. The unique value of Zoom was demonstrated by the June meeting where, all that way from NZ, Declan Wong spoke on 'What you should do prior to, and what to expect when, fly fishing in NZ – A guides perspective'. An enjoyable question/answer session – Claude has provided a summary here. Finally, another early member of CAA has passed away.
We are getting close to our July meeting … remember, that's when Lyall closes the 'little green book' and the registration of fish for possible trophy consideration closes. If you have fish to register, you best contact Lyall and book in a physical meeting or other arrangement in case our club meeting has to continue with Zoom. My quick glance earlier this month revealed very few entries.
Some good news on the Facebook front – Shaun has volunteered to be the lead Editor.  If you are registered on Facebook, you should consider "liking and following" the CAA Facebook page.  Shaun has lots of contacts and so, while much will align with stuff you'll see in the Newsletter or CAA Website News Blog, you may well see it on FB first.  I'm adding a column here in Burley Line as a 'catch up' for those of you who don't want to sign up for Facebook.