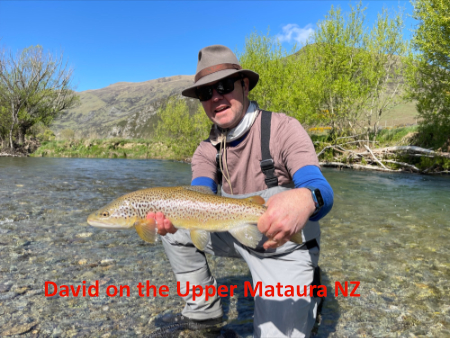 Nice for the club to receive thanks for our efforts with fly casting instruction – certainly drew in maybe a record number of new recruits. The letter of thanks came along with some photographic evidence of (perhaps) lessons learnt, which in turn earns plaudits as our cover photo above – well done David. One of our youngest friends, not yet a member, has caught his first fish on fly – fly cast by himself no less – though he has a big advantage with the waters he is fishing and the excellent flies produced by his dad (a close look at the photo reveals JQ's tricky weedguard). Greg S and Peter have been fascinated by the amount of water around right now, though it was only after they sent this stuff to me that things got very dire in southern NSW and Victoria – our heart goes out to those affected.
Our News blog has been very active. Some pointers here for those who have not registered for automatic email alerts on new posts. A key one for me, relates to the NSW Council of Freshwater Anglers who have uploaded some correspondence showing recent actions the Council has been active in on behalf of anglers.
On one hand it is disappointing that river conditions have led to a postponement of our premier trophy, the Lyle Knowles, but secretly I'm happy as I may actually be in town and available to have a go 🙂 Aside from Lyle Knowles, later this month and early in December we have a rush of diverse fishing activities. Be sure to contact the organisers and commit.
I made contact with Roger, our North American motorcycle road tripper. He wasn't able to get something prepared for this issue, but is hoping to deliver next month. He is currently on Cape Breton Island, Nova Scotia, Canada waiting for some rain due in a couple of days which he hopes will activate the Atlantic Salmon. Next week he's heading to Toronto with plans to have a crack at Ontario Steelhead. I look forward to hearing all about it and sharing it with you here.
With the postponement of Lyle Knowles this edition was looking to be a bit thin – I am much thankful for those who have provided copy this month especially some last moment stuff from Claude and BJ. Hopefully next month will be a bumper given the events but, as always, I would appreciate any and all contributions. Copy to me by 22 Nov would be appreciated.