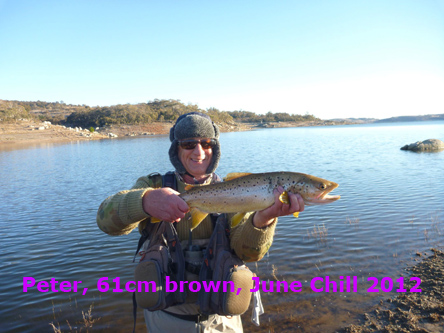 After getting Peter's brown incorrect last month, my penance is that he's photo of the month this month. Actually the image is there to tempt folk into considering the June Chill event – big fish will be around.
CAA went up to Tumut last weekend. The flow was huge, impacting on the fishing no doubt. Unfortunately it seems both John and Claude are busy at work so we'll have to wait to next month for a report.
Greg S has been sending in weblinks to some interesting video clips and articles. Well spotted mate and keep them coming. I wonder if he (or anyone else) might like to take on the role of stand in editor – now that JQ has moved to Cairns Burley Line is missing this essential portion of the machinery. With COVID possibly easing a bit (New Zealand bubble at minimum), you can expect me to be looking to travel with consequences for newsletter production … think about it folks, it isn't that hard.
Some funnies from Mike to lighten the spirits, also I've 'discovered' a particularly good YouTube channel with excellent video quality (I just love closeups of the fish taking the fly) but also instructional commentary along the way.
A couple of important items from Monaro Acclimatisation Society, plus highlights of NSW CFA and RFA of NSW newsletters.