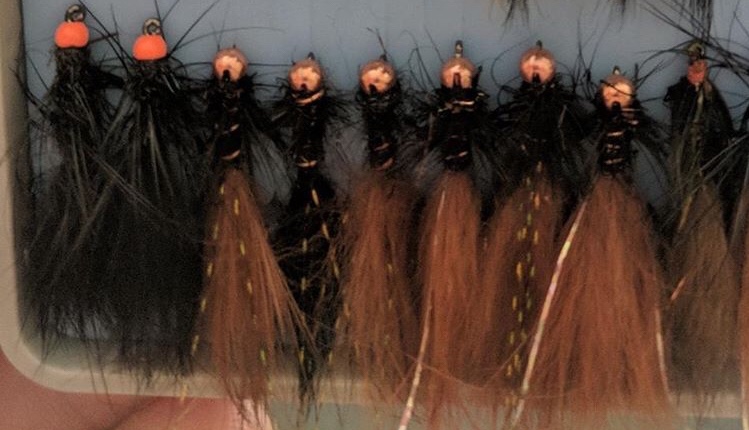 We tied the Eucumbene Zonker Bugger under JQ's supervision.
Materials list and a photo of the killer fly here. Warning – these flies are so deadly that NSW Department of Primary Industries is about to make them illegal. 😀
The zonker is the tail, a replacement for the usual marabou. They're not overly big and tied on a jig hook so that it may be snag free as you pull them through yabbie beds or soaks around the lakes.
– jig hook sizes 10-16. 12-14 is a recommended size for these. With a slotted bead to suit.
– Thread 8/0 uni and a colour of your choice
– Zonker strip (olive, brown, Black etc) to create the tail. We will remove the fur from strip, rather than tie in the strip.
– flash in any colour. One or two strips tied into the tail.
– body may be any dubbing, spectra, seals or chenille etc
– small wire any colour (locking down the hackle).
– hen hackle to suit body. Eg grizzly, olive, brown black etc.
– hot spot usually flyline backing or something that 'pings' when the UV torch hits it. JQ will bring this. It's what Nathan recommends!
– head cement be it Loon UV or Sally Hansen's