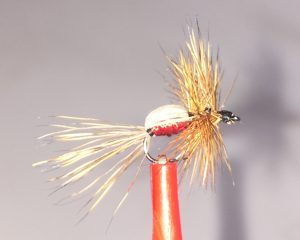 Claude has stepped up to instruct on his variants of the Royal Humpy style fly.
Claude has recently tied and tried a couple of versions of the Royal Humpy dry fly on one of Canberra's local rivers. It proved successful for him and one of his fishing mates…who was considerably more skilled and consequently successful. A number of the fish were caught during blind casts rather than to rises. His mate has caught fish using it on a couple of occasions so hopefully the fish catchability of the fly was not a fluke!
The interweb tells us: "the Humpy trout fly comes in a range of patterns and colours: green, peacock, red and yellow. It represents a beetle or large flying insect and is a good all-purpose fly to prospect waters with. It is a useful indicator fly in the larger sizes. They are great summer time dry flies and produce fish consistently."
Another site advised: "if you fish mountain streams that are bordered by forest, the trout will be used to seeing a multitude of terrestrial insects that continually rain from the trees. Ants, beetles and bees are often the staple trout foods in this situation. The Humpy is a great searching pattern."
The traditional humpy, deer/elk hair and red thread takes Claude about 20-30 minutes to tie (he's still a bit slow) so it may be a bit long to tie on one of our nights. The foam back, red dubbing body and aero wing (below) takes about 5-10 minutes less. The royal humpy can be tied in a variety of body colours using dubbing or thread.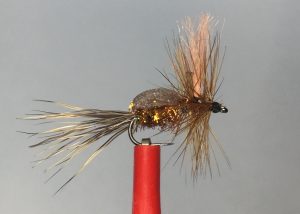 Recipe:
Hook: 10-16 Dry Fly Hook (longer shank unless you're a super tier) – I prefer 12 or 14
Thread: Uni 6/0 or 8/0 Black Thread.
Tail: Elk, Deer or Moose (hopefully one that doesn't flare too much).
Wing: White Calf Tail or Aero Wing (I use pink AW just because that's what I have).
Shell Back: Traditional (Elk hair), Foam – Brown foam. I have seen one website that recommends thin Computer Packing Foam.
Thorax: Numerous options: Traditional – Red Floss, Alternatives –Red Hares Ear, yellow, or any other bright coloured dubbings, Peacock Hurl, wool.
Hackle: Brown Hackle Feathers.