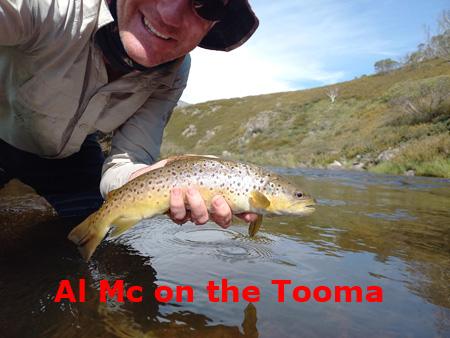 Well I hope you all had an enjoyable Christmas and New Year celebrations – seems some people even managed to get out fishing. Well done to Al, big walk turned out to be quite successful as folk will read here. I've heard whispers about others using midge pupas but can't confirm. The rivers seemed to be blown out to a significant extent, so it is fortunate that I get some good reports about the Snowy Lakes.
The Carp Day was to be a relaxed affair, but it seems to condition of rivers has deterred anglers – maybe some folk went into the spirit of the affair chasing the fish on local lakes – meantime, recall that our carp trophy is not linked to a specific event. Report in your catches to the Secretary (and for info Burley Line Editor) for inclusion in consideration.
Reminder about the need to register interest in the Jindabyne trip – has always been a most enjoyable trip and hopefully the change in date will get us onto some good dry fly opportunities. Jason M was good enough to head down to East Jindy and provided a brief recce report on the accommodation.
Speaking about Jasons – JQ reported in about the latest arrival in his family.
I've included a very interesting article, previously published elsewhere, analysing rainfall and temperatures in the Kydra/Kybeyan – many thanks to Freddy von Reibnitz for this work.
Also here are some other interesting snippets and, as usual, pointers to items that have been posted on-line in our News blog and Facebook page.