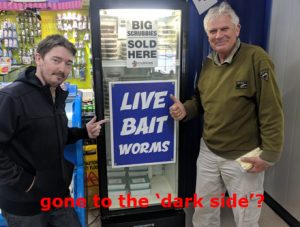 Some very sad news as you'll read in the newsletter.
I've written up a recent trip by Ian, Lyall and me to New Zealand and then we have my report from the Tumut trip. It becomes starkly clear why I have to go to NZ as it has become obvious that I have big problems catching Australian trout! I hope the Trout Strategy will go some way to improving the trout situation 'here' in NSW, otherwise it seems I might need to move to Victoria where things seem to be going gang busters. (My long weekend down the coast had only one 'success' when a pipi grabbed onto a treble hook – fingers crossed for better results when I go down with Lyall).
Meanwhile, Luke and Nathan have had some great success on the rivers (probably European nymphing!). It took some encouragement for them to write up their experiences as they didn't want to show up some of the old-stagers.
Ash has also provided a contribution covering his successes with Murray Cod. Beautiful fish.
Many thanks to Jason Q and Luke for standing in for me last month – it is great to have such dedicated backup.
Hope you enjoy the read, but still looking forward to your contributions folks.