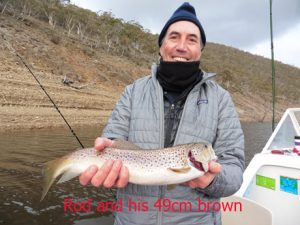 Welcome to June – another packed issue. Jason Q will be editing the July edition, so please send in your stuff to help him fill the pages. The Burley Line email address will get it to him. Great seeing some of our newer members contributing – in this issue a report on some local fishing from Claude. Keep up the good work folks.
Peter and I had a very enjoyable time honchoing the group up for "Monaro Streams". Quite mixed results as you'll see in the report. Peter and I are still wondering what we've been doing wrong! A lot of the attendees have provided me with photos and words – really appreciated.
Along with this, we've got a number of contributions such as a gear review by Jason M and a revealing snippet from Jason Q plus of course lots of photos of great fish – who says 'grip and grin' is out of fashion!