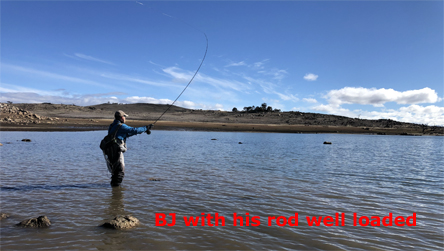 Our AGM was conducted on 11 August. Lots of smiling faces with the awarding of trophies. We await advice on possible changes to how fish can be reported for trophy purposes … all a bit academic until our lockdown is relaxed.
With my Membership Officer hat on – reminder that fees are due – go to 'join us' to update your contact details via the webform or simply email me. Please note our new bank account numbers (these were changed last year), they are given in this newsletter. So far 24 members have signed up again – means 22 from last year remain to renew, plus hopefully some new members – spread the word folks.
Our traditional casting for the public days were to be on 12, 19 and 26 Sep – of course these dates were always dependent on progress in respect to the COVID lockdown. Given the uncertainty with both ACT and NSW regional lockdown, the Committee has made the hard decision to postpone the event.
Though we are in lockdown, readers are lucky enough to be able to read here about some fishing going on before the current lockdown was started. Others of us have had to live vicariously through videos on the Internet –a number of these have been provided by the Manic Tackle Project and notified on our News Blog … thank goodness for our bro's "across the dutch". Peter spotted the promotions and I'll try to provide advice each time they come up via the News Blog and CAA's Facebook page.
My dedicated helpers have come up with more funnies and interesting snippets from the web … keep it up guys.
http://canberra-anglers.asn.au/blog/wp-content/uploads/2021/08/0171.pdf