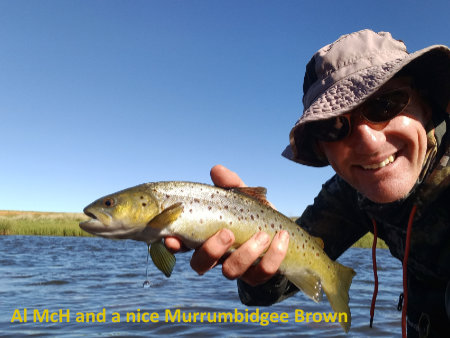 Reports here from our recent trip to Tumut – many thanks John for organising. Disparate reports here also from a very wet Lyle Knowles.
Jason M has headed north on long service leave, but managed to depart with one article submitted, plus a much appreciated effort organising enamel badges. Thanks Peter for spotting an interesting podcast and to Al McH (recently departed for points south of the border) for two reports – he has promised to keep us apprised of activities in Victoria, and also to possibly lead a CAA trip south. I've also included some fishing regulatory items.
The July meeting fast approaches where the 'little green book' closes and registration of catches for trophy consideration ceases. Those who were successful in earning a trophy last season have been asked to return the perpetual trophy. With Lyall away for a while, John is filling in. See him at the June (and July) meeting. Those who think they are in contention (probably not me this year) might think about, if they should win, whether they would wish to receive the small replica trophy presented for keeping. I chose not to last year (the mini-trophies are not inexpensive, and also present a dusting task back at home).
Have you got some stuff to share with other members via Burley Line? Not looking for War and Peace folks, just a couple of paragraphs and hopefully some pictures. If you are up for it, can you email to me before 23 June please? (The burley-line email address link is on our webpage www.canberra-anglers.asn.au).
Reminder also that the committee are looking for your ideas for events … bring your suggestions forward so that the program better reflects what you want to happen. Even better if you volunteer to co-ordinate it, the task is not onerous – see this guidance. As Claude said, one big bonus for you is that you'd be able to set the date.