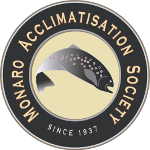 Received from Steve Samuels:
Dear Supporters

Those of you who have been trout fishing for a while may well remember the fantastic trout fishing that used to be on offer in Googong Dam just outside of Queanbeyan NSW, but with the masses of Redfin Perch in Googong the trout fishery has declined dramatically. Under the NSW Trout Strategy there will be an emphasis on stocking larger trout into redfin infected waters to try and re-create the good trout fishing of the past.

At 1pm today, Monday 22 July 2019, NSW Fisheries released adult trout into Googong Dam. Each of these fish is tagged with a unique eye tag that consists of one or two luminous bars behind the left eye (see attached photo).

In the future it is hoped that more substantial trout stockings will occur with yearling sized trout that will be able to out-swim the Redfin.

If you go to Googong and catch one of these tagged trout, please feel free to let me know so the information can be passed onto NSW Fisheries.

We all know that Googong is a first-class Murray Cod and Golden Perch fishery and it is hoped that bringing back trout will see more angling opportunities for recreational anglers.

I wish you luck

Steve Samuels

President

Monaro Acclimatisation Society Inc.